Figuring out how to get from Bangkok to any of the islands in the south of Thailand can be pretty overwhelming with the wealth of options available!
A cursory look at options would include flying to Phuket or Koh Samui, or flying to Surat Thani and taking a bus and boat.  Or you could take a train to numerous towns and cities on the way, or go by bus. Anyway you'll probably get a boat at some point (they are islands after all).  We've recently completed the task of getting from Bangkok airport to Koh Tao, and if you want to check your specific dates and times, complete the box below and get your journey booked in advance!
Bangkok to Koh Tao
You'll realise there are many options when arriving at Bangkok airport including trains, buses and taxis.  We took the easiest option and got an official taxi for 450 bhat (£9) which took about an hour to get to the city centre. We simply followed the signs to the taxi rank outside the terminal and gave the address to a lady on the desk who got us our driver. They give you a receipt of your destination so keep a hold of this to ensure you are taken to the right place! We found the easiest way to do this was to get a map of our destination on our iPhone, save the screen image to our photos and simply open and show the taxi rank – no need for any translations! (For those with an iPhone, simultaneously press the home button and power/lock button to take a snapshot of your screen.)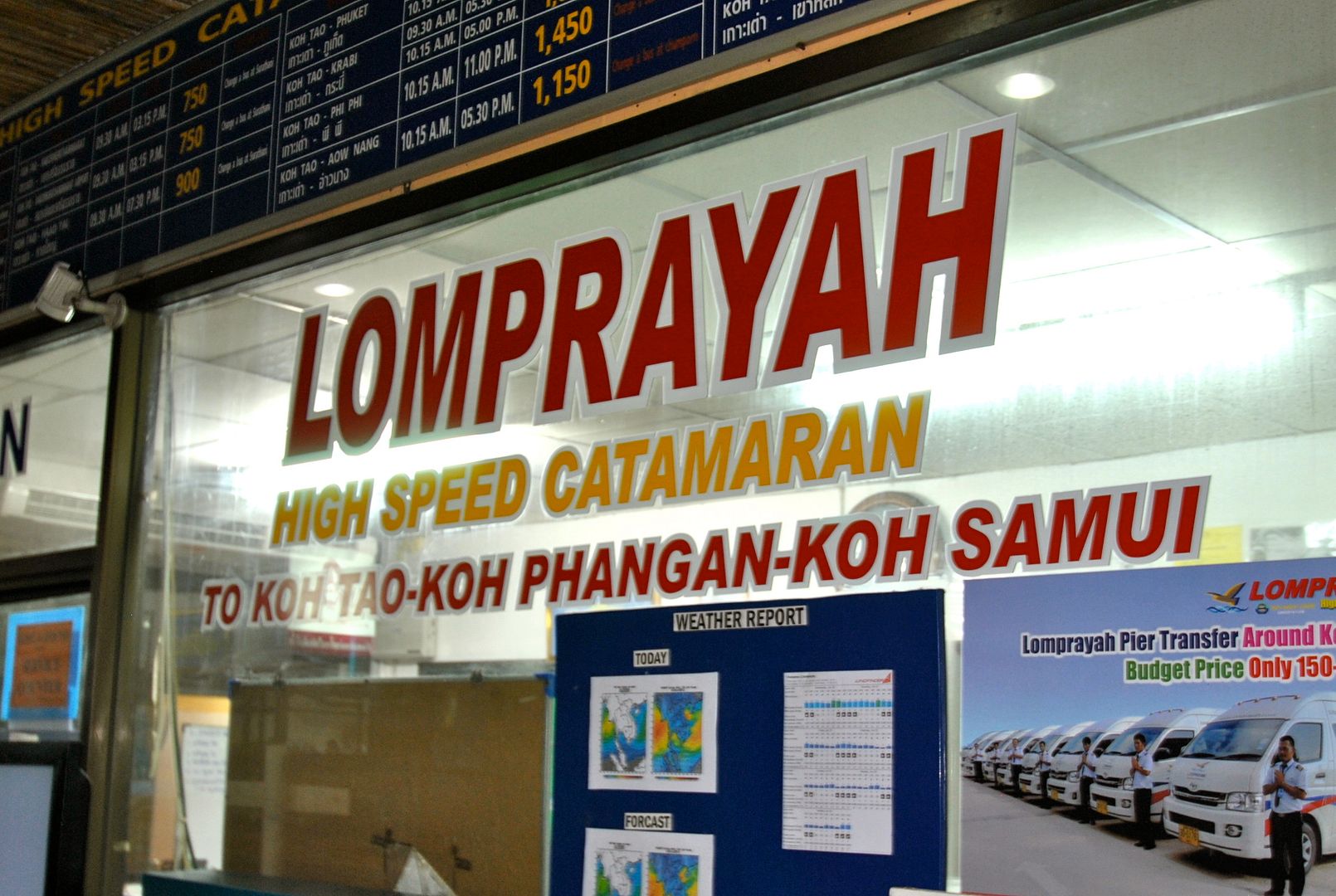 We booked an overnight bus and ferry combo option with Lomprayah bus company for 1050 bhat (£22) each, and our taxi driver dropped us off at the office.  For those who want to use the service, we booked and paid in advance online about a week before we arrived.  When you arrive at the office, it seems you can't pick up your tickets until around 1930, but if you get there earlier its worth checking anyway to see what time the bus leaves. Although they say 2100 for departure, we left about 2015 (perhaps because everyone was already there), so its worth getting there early if you can. The office is also located on a very cool street of bars and restaurants, so you can grab something to eat and a 3 for 2 beer deal as well.  Helps with catching the zzzzzzz on the night bus! The bus we had was fairly modern, pretty spacious and didn't have the usually fearsome 'bus with toilet odour'.  The seats were spacious and reclined by quite a bit, which was fine as the gaps between the chairs in front and behind were slightly wider than usual.  We were also given blankets which was a nice surprise!  We were, however, slightly suprised when the TV at the front was switched on, the volume ratcheted up and Tintin the movie came on!  Laura shut herself off from the world with ear plugs and eye mask but I soldiered on as Tintin tried to work out a puzzle which involved three model boats, a drunk Scotsman captain and some dodgy bloke with an assistant.  I missed the ending but I'm guessing the dog solved the mystery. We didn't have a good nights sleep on the bus, but I don't think we ever will to be fair.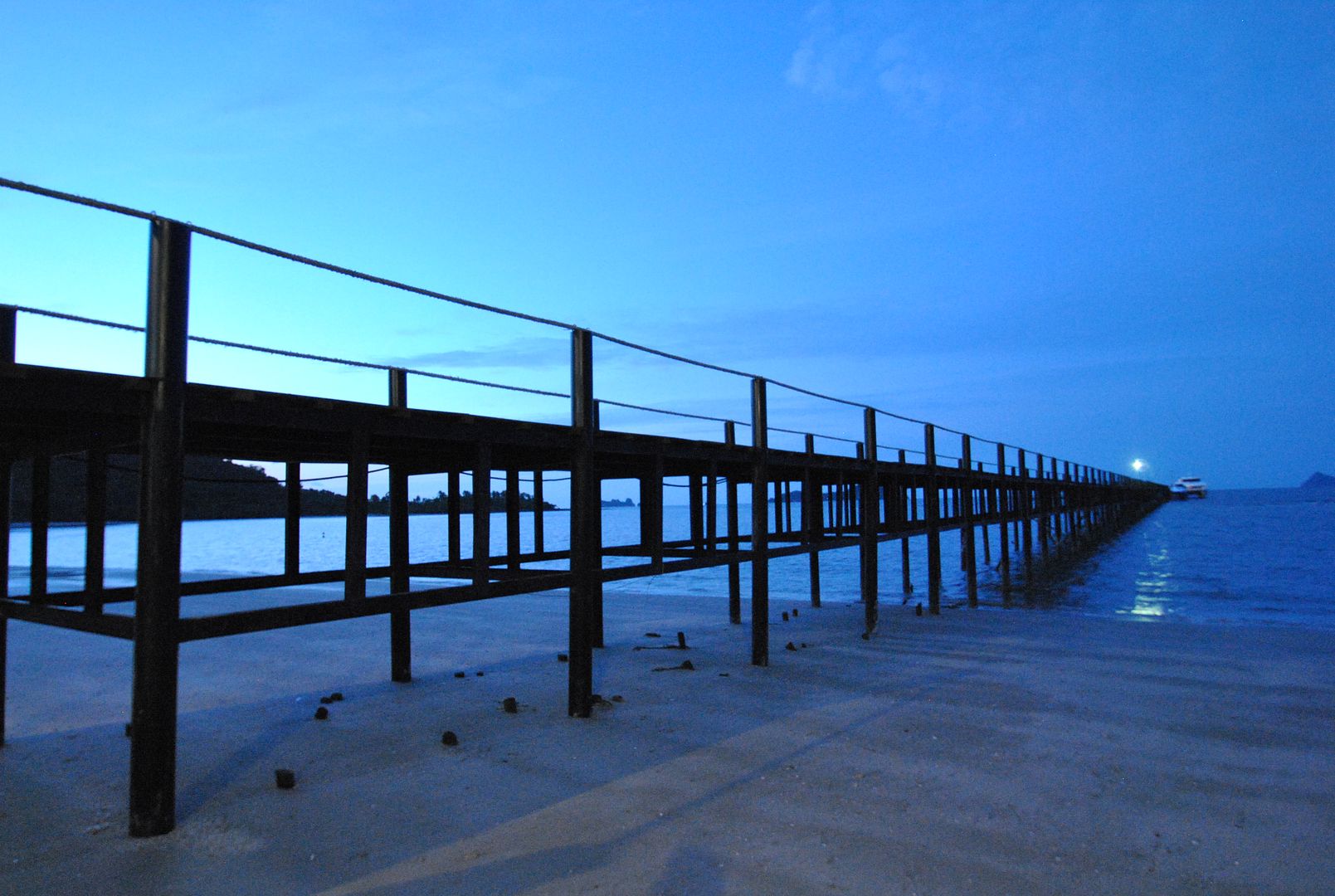 We arrived into Chumphon pier at about 0500 and had a two hour wait until our catamaran left, so we made ourselves comfortable on the deck chairs on the beach, and waited for our first sunrise of the trip. We checked in again at the ticket office at Chumphon pier with the tickets given to us in Bangkok, and boarded the catamaran for our 1.5 hour journey to Koh Tao.  We were fine for around 45 minutes, and then the sea sickness hit us and we went very white and very quiet for 45 minutes!  It seems we were the only ones to suffer. In terms of total journey duration, we landed in Bangkok at 1530 on Tuesday and arrived into Koh Tao at 0830 on Wednesday morning resulting in a 17 hour trip all in and a total cost of 1,275 bhat ($44) each (check Lomprayah website for latest prices). We'd highly recommend the Lomprayah bus and ferry option as it was painless and smooth. Once you've arrive on the island, either meet your hotel pickup or grab a taxi to your hotel.
Get Your Trip Organised!
Book Your Train/Bus/Ferry Tickets Online!
We always recommend that you book your journey in advance, so you have peace of mind that your seats are booked! We recommend using 12go.asia as they offer train, bus and ferry ticket booking online in advance! Check out your journey options and prices here and get your seat reserved!
Some of the links above are affiliate links, which means if you choose to book somewhere though our link, we receive a small commission. Don't worry, it doesn't cost you anything more, and most importantly, we only recommend companies that we use ourselves so you can trust our recommendations!
Want to know how to get from Bangkok to Koh Phangan? Or from Bangkok to Koh Samui? Check out our other articles!