"On a long journey, even a straw weighs heavy." Spanish proverb
How does a girl decide what goes into her backpacking packing list? At first I thought to find the biggest backpack and fill it with as many of my material possessions as possible, after all travelling for an extended period of time will throw up all situations! But, after taking advice from many other travellers, I realised that one of the best things about travelling is the opportunity to simplify your life and be free of unnecessary material things one accumulates.
I thought sensibly and selected a fairly small but realistic sized back pack, one which I could comfortably carry across all types of terrain and methods of transport that we will encounter! After all, the last thing you want is to be held back from jumping on that speed boat to the next island or that cheap tuk tuk to the bus station due to a very large and restrictive bag, not to mention having more things to worry about losing!
So here is a summary of my female packing list and how it's worked out for me! Click here for the male backpacking packing list!
My Backpacking Packing List
Bags
This will be one of the most important decisions you make, as the size of your backpack will impact on how much you take with you, how heavy your bag will be on your back, and therefore how comfortable you will be as you hop on and off buses, boats and tuks tuks across the globe. After all our adventures, I have finally settled on the size of backpack that best suits me! For me, a 45 Litre Backpack (With Wheels)
is the backpack that best suits me. Not so big that it becomes uncomfortable and unwieldy, but large enough to carry everything I need. Plus it really makes you think about what is important and not to take with you.
I chose one that is a backpack but can also be wheeled along the ground. It gives me flexibility to swing it onto my back when I need to, and wheel it when I can! It also opens up fully like a suitcase, rather than a top opener which makes accessing everything far easier than having to pull everything out to get to the bottom. This is the bag I now use
.
I also carry a smaller backpack with me, and use this as a day pack when we're out and about in a city or on a trek. This is mostly used to carry daily essentials like water, maps, guidebooks, purse, phone, camera, kindle, sunscreen, sunhat, sunglasses, scarf, snacks etc.
I also use this to carry my valuables when we're travelling between two destinations. It means when you jump onto a bus, train or plane, you can put your large backpack in the hold/storage compartment and keep the most important things on you with the small bag. This includes taking it on buses and planes and putting it under the seat in front of me, or on sleeper trains I can put it next to my pillow and sleep next to it. You could always loop your arm through the straps if you wanted to me even more cautious.
Having this bag gives me piece of mind that my valuables are always close to me and in sight. It also means when we jump off a bus or train into a group of eager taxi/tuk tuk drivers, the bag can be put on my front to so no-one can access it without me noticing. This is the bag I've used the last few years
, it was a bargain!
Footwear
I've experimented with walking boots and walking shoes, and I prefer the lighter, breathable walking shoes for most of our treks. These Salomon Walking Shoes
are most suitable for warmer climates, and they are perfect for daily activities in towns and cities as well as multi day treks. As they are breathable, I have no problem walking through rivers and streams with these. Yes your feet will get wet, but they quickly dry out. These are the ones I use
!
For more relaxed walks around cities, or short day treks, I've used these Karrimor Walking Sandals
for the last few years and highliy reccomend them. They are particulary good when its hot and you don't want to wear your walking shoes, but your flip flops aren't suitable. These are the exact ones I use
.
A pair of flip flops is an essential item on your travels! They slip on and off easily, especially when entering and leaving temples, going in communal showers, hanging out on beaches etc. They're also small, light and fit easily in your backpack.
Clothes
Starting from the bottom up….
Trousers & shorts
When I go trekking, I've learned that I prefer to wear trekking trousers, irrespective of how hot it is! I've had some interesting interactions with various nettles, beetles and ants on my bare legs as I've walked through jungles (which I don't want to repeat). These Craghopper trekking trousers
have looked after my legs very well, they keep me relatively cool in hotter climates, and they're lightweight for your backpack.
You also save on sunscreen as well, trust me you don't want to be slapping on sunscreen on your legs every few hours on a trek, especially when the bugs are attracted to the smell!
Pretty self explanatory really, it's up to you how many you take but I find 2 pairs to be enough (you can wash one pair whilst you're wearing the other pair).
Dresses & skirts
1 x kaftan (over the swimsuit type dress)
2 x day dress (I went with a black cotton comfortable one)
Tops
4 x t-shirts
2 x vest tops
1 x nice top (to wear going out in the evening)
1 x long-sleeved Berghaus trekking top
Just like the trekking trousers, a long sleeved top is essential for me on treks and when we're out and about exploring in the day time. It covers you from the sun (saving on sunscreen), and also protects from nettles, plants and insects.
1 x thermal leggings and top
These thermal leggings and top are an absolute must if you're heading to cooler climates, or if you are trekking up a mountain. It's amazing how cold it can get on a trek, even in warm countries during summer, espeically if you're getting up before dawn to trek. They are also good for sleeping in as well.
Cardigans & jumpers
1 x black cardigan (goes with everything!)
1 x fleece
It's all about layers when you travel, and sometimes you'll need a fleece under your waterproof jacket. These are lightweight and roll up small for your backpack!
Jackets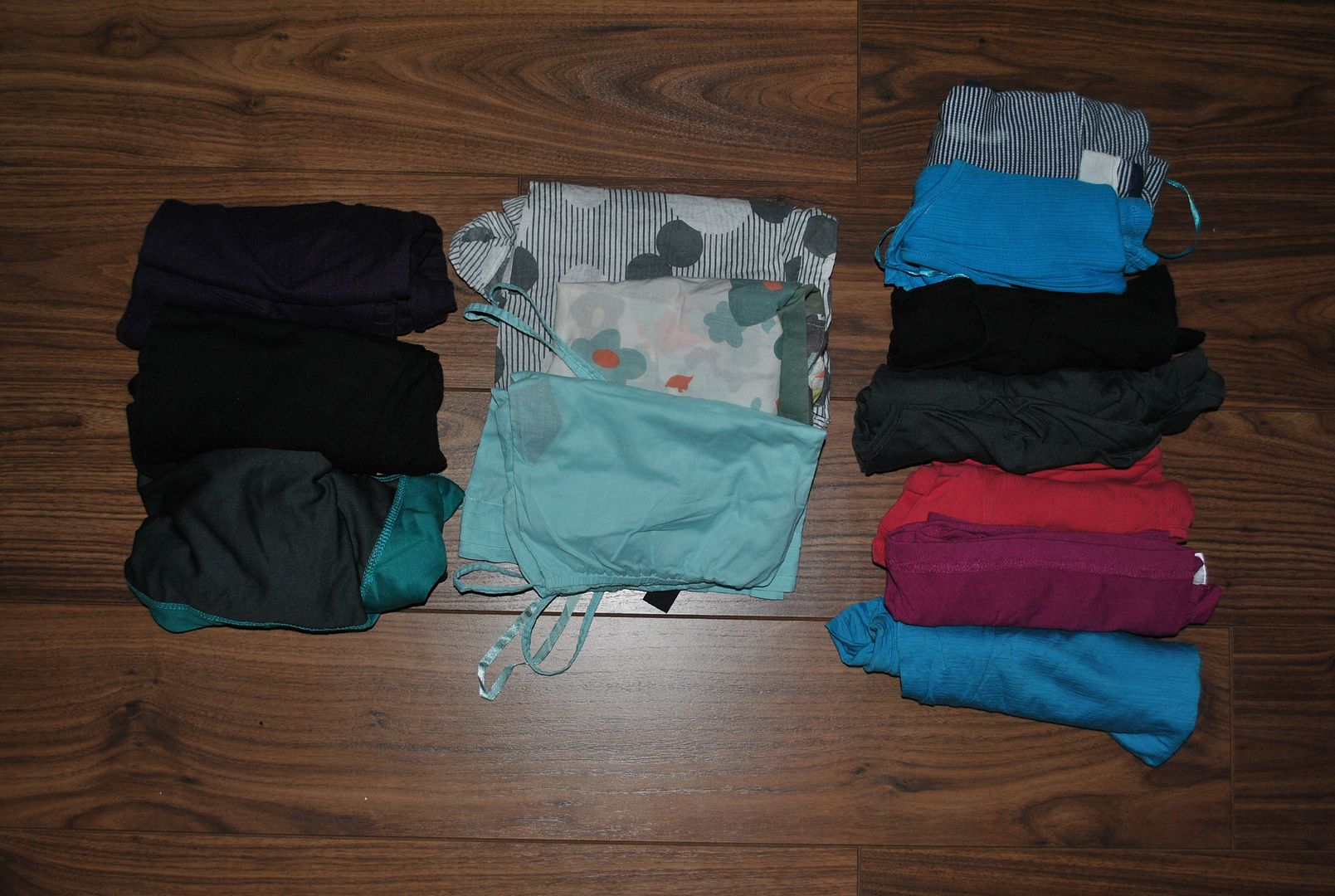 Underwear & PJs
10 x underwear (I recommend small light ones which are quick drying!)
4 x pairs of trainer socks (mixture of trainer ones and slightly thicker walking ones)
2 x pairs of thicker socks (mixture of trainer ones and slightly thicker walking ones)
2 sports bras & 1 bra (2 straps and 1 strapless – in hindsight a couple of sports bras would be better than normal bras for the heat and comfort when travelling!)
2 x bikinis (probably only need a couple but I like having the choice!)
1 x thin cotton long sleeve pjyamasshorts & vest top PJs
Other
1 x flexible belt (1 without restrictive holes to fit on every pair of trousers, shorts, dress!)
1 x large scarf or pashmina (very handy for when you need to cover your shoulders when visiting a temple but don't want to put on a jumper in the heat.  Also good when there is an unexpected tropical rain shower and to cover up from the sun if you've forgotten your sunscreen on an outing!)
1 x travel towel (very handy on longer journeys when you just want to wash your face or have an unplanned dip in the sea or swimming pool!)
1 x silk liner (for dodgy looking bed sheets or even just to protect yourself from the mozzies when no bed net is provided!)
1 x sunglasses (inexpensive ones you won't worry about losing or breaking and can be easily replaced at a local market!)
1 x sunhat
The important administrative stuff!
Travel insurance (THIS IS IMPORTANT – don't leave without it! We strongly believe if you're going on an adventure of a lifetime, you should take out insurance to cover you.
Passport Tickets/booking confirmations (though we haven't bothered printing many as most accept electronic reference saved on i-phone!)
Bring a few passport photos ready for use for visas (something we forgot and had to buy!)
1 x Insect Repellant
(with 50+ 'deet' to fend off the mozzies!)
1 x Toiletry bag (with miniature shampoo, conditioner, body wash, face wash, toothbrush, toothpaste, razors, deodorant stick, linen wash, spare sunscreen, face wipes, face cream)
1 x small make up bag (couldn't go without my mascara and lipstick of course!)
1 x anti-bacterial hand liquid
(very handy to have in your bag to use before meals!)
1 x first aid kit
(a proper travel one from Tiso for example) Then other essentials such as malaria tablets (need to buy in advance for visits to malaria affected countries you're visiting – we went for malarone as least side affects though expensive. Good tip is to order from Lloyds pharmacy online and collect) Ibuprofen, aspirin, rehydration tablets or powder, Diarrhea tablets, Savlon cream (to help soothe bites etc) and obviously make sure you get your vaccinations in advance!
Electronics Packing List
1 x iPhone & earphones (very handy for iTunes/Spotify for music and for keeping in touch with home via facebook, emails, 'whatsapp', 'viber', Skype etc – we've had no problem finding free wifi in most places so far!)
1 x Kindle (loaded with good books and travel guides!)
Other
So that's it, my backpacking packing list! What do you think? Anything I've missed that you think I need? Let me know in the comments below! Interested in what Barry has taken with him? Have a look at his backpacking packing list!